Ok. I started translating this really long ago - a whole month ago. Finally got round to finish it. More like, I got sick of having this half completed work and decided to just finish it up. It might be a little rough around the edges as a result, for that I apologise. I just want to finish it up and be done with this. It's for Arashi's Sakura performances on Music station in Feb. I translated the whole article, including the Momo clover bits.
Here goes.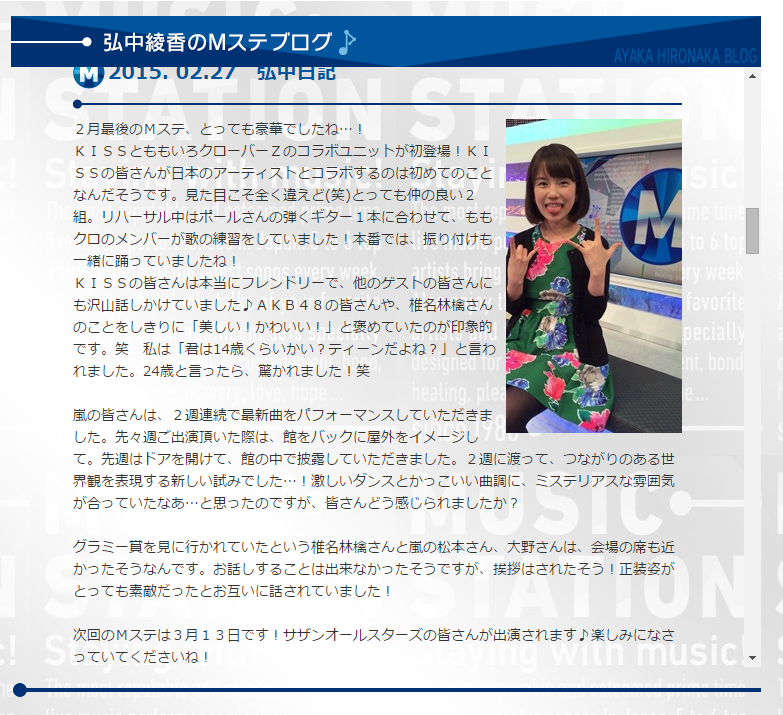 2015.02.27 弘中日記
2015.02.27 Hironaka Diary
2月最後のMステ、とっても豪華でしたね…!
The last Mstay in February, it was really extravagant...!
KISSとももいろクローバーZのコラボユニットが初登場!KISSの皆さんが日本の
アーティストとコラボするのは初めてのことなんだそうです。見た目こそ全く違えど(笑
)とっても仲の良い2組。リハーサル中はポールさんの弾くギター1本に合わせて、もも
クロのメンバーが歌の練習をしていました!本番では、振り付けも一緒に踊っていました
ね!
KISS and Momo iro clover Z's collaboration appeared for the first time! It's the first time KISS is collaborating with artists from Japan. Although they look completely different (lol), the 2 groups are really close. During the rehearsals, they practised one song with Paul-san playing the guitar, and Momo iro clover singing! During the actual recording, they danced the choreography too!
KISSの皆さんは本当にフレンドリーで、他のゲストの皆さんにも沢山話しかけていま
した♪AKB48の皆さんや、椎名林檎さんのことをしきりに「美しい!かわいい!」と
褒めていたのが印象的です。笑 私は「君は14歳くらいかい?ティーンだよね?」と言われました。24歳と言ったら、
驚かれました!笑
Everyone from KISS is really friendly, they spoke a lot to the other guests. ♪ They praised of AKB48 and Sheena Ringo-san, "Pretty! Cute!". lol. To me, they said "Are you around 14 years old? You're a teen right?" As a 24 year old, I was really shocked! lol
嵐の皆さんは、2週連続で最新曲をパフォーマンスしていただきました。先々週ご出演頂
いた際は、館をバックに屋外をイメージして。先週はドアを開けて、館の中で披露してい
ただきました。2週に渡って、つながりのある世界観を表現する新しい試みでした…!激
しいダンスとかっこいい曲調に、ミステリアスな雰囲気が合っていたなあ…と思ったので
すが、皆さんどう感じられましたか?
Arashi performed their latest song for the second week in a row. The week before last's performance actually used the concept of being outside a mansion for the background of the set. Last week, the door opened and the interior of the mansion was reviewed. Through these two weeks, they tried to reveal a linked world...! An intense dance with a cool melody, I think it fits with the mysterious atmosphere, what do you all think?
グラミー賞を見に行かれていたという椎名林檎さんと嵐の松本さん、大野さんは、会場の
席も近かったそうなんです。お話しすることは出来なかったそうですが、挨拶はされたそ
う!正装姿がとっても素敵だったとお互いに話されていました!
Sheena Ringo-san, Arashi's Matsumoto-san and Ohno-san, who went to watch the Grammy's Award Ceremony, were apparently sitting close to each other in the ceremony venue. Although they didn't get to talk, they were able to greet each other! They praised each other's formal wear!
次回のMステは3月13日です!サザンオールスターズの皆さんが出演されます♪楽しみ
になさっていてくださいね!
The Mstay will be on the 13th of March! Sazan All Stars will be performing. ♪Please look forward to it!
PS: I prefer saying Mstay instead of Msute as the romanji ought to be, simply because it looks nicer in English. (To me at least. Msute invites more of a 'M-suite' feel.)