Gosh finally got this done. It's been dragging for weeks! Anyway it's finally completed now. It's been a busy few weeks at work for me, and this week isn't going to be any better. Pardon me in places where the English sounds a little off... I just wanted to get this over and done with lol.
Ah an important note. There was no tweet for the 7th March Sakuraiba holiday episode. No idea why that's so... maybe the person managing the account was on leave/sick? *shrugs*
今夜10時の嵐にしやがれは…嵐と初共演!!実力派女優二階堂ふみが登場…二階堂ふみ
っていったいどんな人?嵐となぜかトランポリンに挑戦…天才大野が奇跡を起こす!▽そ
して、話題沸騰!超新星"クマムシ"が登場…名曲あったかいんだから~♪を嵐と大熱唱
!! #嵐にしやがれ #ntv
Tonight, 10 pm, in Arashi ni Shiyagare... appearing with Arashi for the first time!! The actress with real abilities, Nikaidou Fumi will guest... just what kind of person is Nikaidou Fumi? Why is she trying the trampoline with Arashi... the genius Ohno creates a miracle! ▽And then, the boiling hot topic! The new superstar "Kumamuji*" appears... singing the hit song Attakaindakara~♪** enthusiatically with Arashi!! #Arashi ni Shiyagare #ntv
*They named themselves after water bear aka tardigrades (It's called Kumamuji in Japanese). It's a really cool micro-animal that can survive in extreme environments.
**Literally: Because it's warm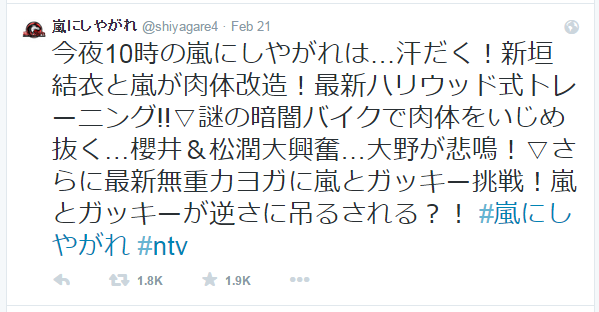 今夜10時の嵐にしやがれは…汗だく!新垣結衣と嵐が肉体改造!最新ハリウッド式トレ
ーニング!!▽謎の暗闇バイクで肉体をいじめ抜く…櫻井&松潤大興奮…大野が悲鳴!▽
さらに最新無重力ヨガに嵐とガッキー挑戦!嵐とガッキーが逆さに吊るされる?! #嵐にしやがれ #ntv
Tonight, 10 pm, in Arashi ni Shiyagare...sweat! Aragaki Yui and Arashi does body sculpting! The latest Hollywood style training!! ▽Mysterious biking* in the darkness to create a muscular body… Sakurai & MatsuJun are really excited… Ohno whines! ▽After that, they try out the latest anti-gravity yoga! Arashi and Gakkii hangs upside down?! #Arashi ni Shiyagare #ntv
*Cycling would be a better word, but I wrote it since they used the word 'bike' in katakana. The place they went to was
Feel Cycle New York
.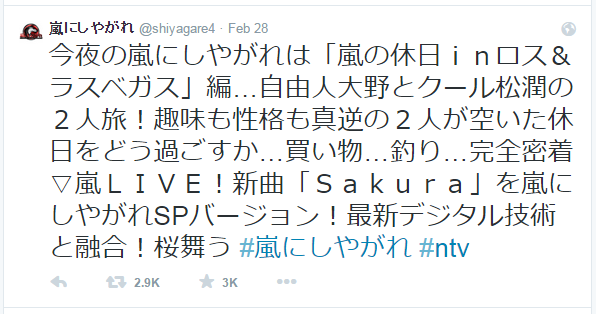 今夜の嵐にしやがれは「嵐の休日inロス&ラスベガス」編…自由人大野とクール松潤の
2人旅!趣味も性格も真逆の2人が空いた休日をどう過ごすか…買い物…釣り…完全密着
▽嵐LIVE!新曲「Sakura」を嵐にしやがれSPバージョン!最新デジタル技術
と融合!桜舞う #嵐にしやがれ #ntv
Tonight's Arashi ni Shiyagare is the [Arashi's off day in Los (Angeles) & (Las) Vegas] volume… free spirited Ohno and cool Matsujun's two person travel! The two who are complete opposites in interests and personality, how did they spend their off day… shopping… fishing… total coverage ▽Arashi LIVE! Special Arashi ni Shiyagare version of the new song [Sakura]! Integrating with the latest digital technology! Sakura dance #Arashi ni Shiyagare #ntv
今夜10時の嵐にしやがれは…放送200回▽大物俳優大沢たかおが嵐と初共演…大沢た
かおの㊙私生活を徹底解剖!!たかおが本気で答える!?▽さらにモテ俳優吉田鋼太郎に
学ぶダンディ密会!!一触即発!?吉田VS松潤▽嵐の休日に密着…二宮の休日!!日テ
レ見学ツアー! #嵐にしやがれ #ntv
Tonight, 10 pm, in Arashi ni Shiyagare... 200th episode ▽The big shot actor Osawa Takao works with Arashi for the first time… Complete dissection of Osawa Takao's secret private life!! Takao answers seriously!? ▽On top of that, a secret gathering to learn how to be dandy from the popular actor Yoshida Koutarou!! An explosive situation!? Yoshida VS MatsuJun ▽Total coverage of Arashi's off day… Ninomiya's off day!! Field trip in NTV! #Arashi ni Shiyagare #ntv